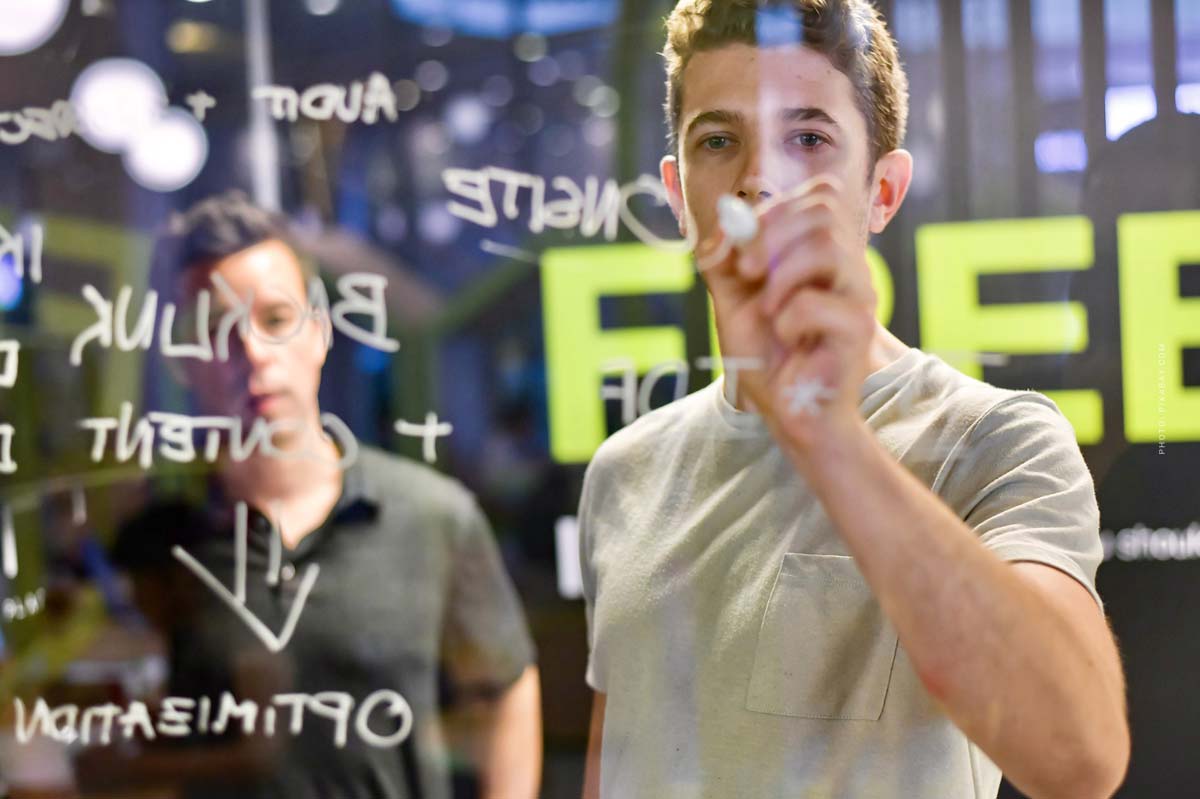 Speaker Start Up – Start Up! company in the company – Together with our speakers, we developed a great new concept a few years ago, which now has more than 1,000 guests and listeners per year. In the section "Startup! Startup within the company", we have focused on small and medium-sized companies as well as corporations that see their employees as a valuable resource for ideas and new business models. We have also modified the concept for colleges / universities that have high expectations of their learners. Here is an insight!
Speaking, workshop, mentoring and pitching.
In this way, employees can be retained, and extremely motivated employees can even develop further within the company. The highlight for you as a company: You are ultimately a partner in this new business idea. Here is a small insight into the seminar concept, which consists of either impulse speeches (1 day), or a complete workshop program with mentoring and pitching, over two days.
All in One.
Book speaker
The world is constantly changing. We find speakers who perfectly fit your topic.
Awakening entrepreneurial spirit: Motivation
Before we talk about technical terms, sales channels to be considered, resources and partners, legal issues such as patent protection, … first of all, it is about awakening the entrepreneurial spirit!
Often employees have been with the company for five years, ten years or even 20 years. The processes are entrenched but quietly, they (employees) may be tinkerers, developers or just have a good idea.
Especially in combination with existing channels, from purchasing to sales, finance and tax, that already exist in your company, a profitable business, in terms of future revenue and employee satisfaction.
Therefore the A&O at the beginning: Motivation
Awakening talents, even those that have fallen asleep
A simple comparison to sports, often people say 90% work, 10% talent. That's exactly what we encourage and push in this program.
We are already talking to very motivated people, otherwise the employees would not be in your company for so long. This is exactly about this 10% talent (-development), how can we equip people with knowledge and skills in a short time so that you can develop your own business models?
The perfect introduction to these lectures are best practice examples, women and men who have made it, through diligence and work. If you develop an idea, validate it (that's what the next steps are about), you just have to stick with it long enough, diligently expand your network and hone your productivity, then success comes almost automatically.
90% of companies fail after 5 years
Between the hundreds of slides again and again an important sentence
After five years, nine out of ten companies fail (90%)
Therefore step number one: motivation! This way the participants get to know the whole path, not only the idea and the possibly, maybe… Our goal: Directly develop strategic thinking, review step by step, with the goal of developing their own roadmap for success.
Finally, participants also prepare to become general managers.
Developing a business idea: Canvas as a tool
To ensure that participants gain the greatest possible knowledge in the shortest possible time (hours, not years), we rely on the"Lean Canvas" in our presentations. This is a variation of the Business Canvas, a somewhat more complex, or more in-depth form of planning a business idea.
Roughly, the Lean Canvas is about 9 fields, which are worked on by the participants. Simple questions, for example about the USP of the business idea, the unique selling point. First, there are questions about the basic benefits of the business idea, but even more important is the competition. After that, of course, the typical questions, such as about sales.
These 9 fields are linked together in such a meaningful way that participants can validate their business idea extremely well (i.e. check whether it is profitable), from start to finish. Possible weak points can thus be identified.
More importantly, is the business idea generally viable or should it be discarded? Because such decisions are also part of the future life of a CEO.
Time and workshop: Speaking XXL
Relative to typical speeches and presentations, depending on the client, these appointments are not limited in time to one hour. For example, one client has 250+ participants directly, who in turn are divided into groups of five, working on their individual projects / business ideas.
Example: 250 participants in Berlin
Let's take a closer look at this example: Over 250 participants come together in Berlin to learn about the world of business ideas and their implementation over two days. Success stories, as well as risks and mistakes. On day 1 there are 3 lectures, between the lectures the participants work on their business idea. These work phases are accompanied by mentors, so that the participants can constantly ask questions and get new inputs to improve your business idea.
Already a month in advance, participants get time to hone their business ideas, so here, on the day of the presentation, they are really still sharpening their tips.
On the second day, the business ideas are presented (pitches).
Process summary: Accelerator Input
Day

Welcome, motivation and role models
Lean Canvas, existing ideas + inputs from real life entrepreneurs.
Pitch training and mentoring for individual business ideas

Day

Pitches of individual groups
Feedback from mentors / investors
Evaluation and 'winners' (depending on customer requirements)
Pitch to the company: Learn to present
Pitches briefly summarize a business idea. Here, too, there are various forms. For example, the elevator pitch, which usually lasts a maximum of one minute. A regular pitch in a company lasts 5 to 10 minutes, depending on how many questions there are from investors or from the employer.
Pitch times
Elevator Pitch: 1 minute
Pitch: 5-10 minutes
Already on the first day, all participants get valuable impulses on this topic, as shown in the schedule (above). On the second day you will get to know the practice.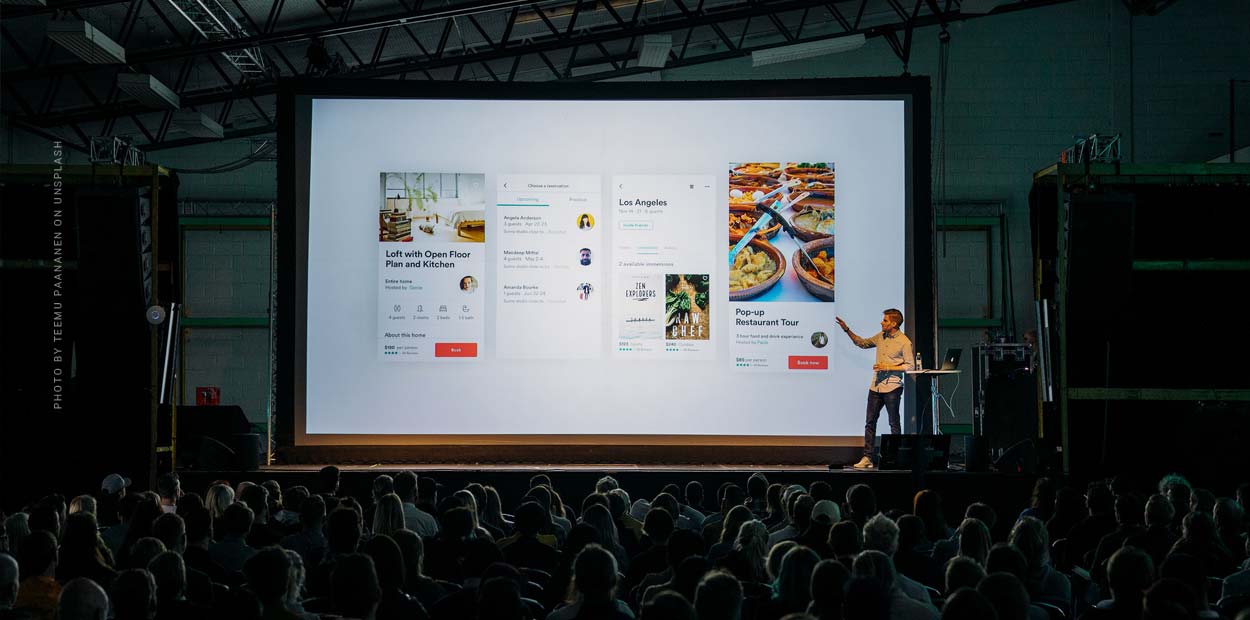 Learning from others: Pitch to groups
Another advantage is that the participants see other teams presenting their business ideas. Accordingly, they can also make comparisons with their own presentation, presentation and moderation.
Retain and develop employees: Advantages HR
For motivated employees, this concept is a great way to develop themselves in your company. At the same time, it motivates other employees to think about how you could use their products, their network, their structures for new business ideas.
All this leads to the fact that their company is also modernized, positive reputation on the part of employees of the drives and ultimately increases sales.
Concept: For companies and universities
In the meantime, we have not only tested our concept in companies, but also together with colleges and universities, especially from Switzerland. Should you also want to prepare your students for future business life, with real practice from entrepreneurs and startups, this is an excellent way to impart practical knowledge.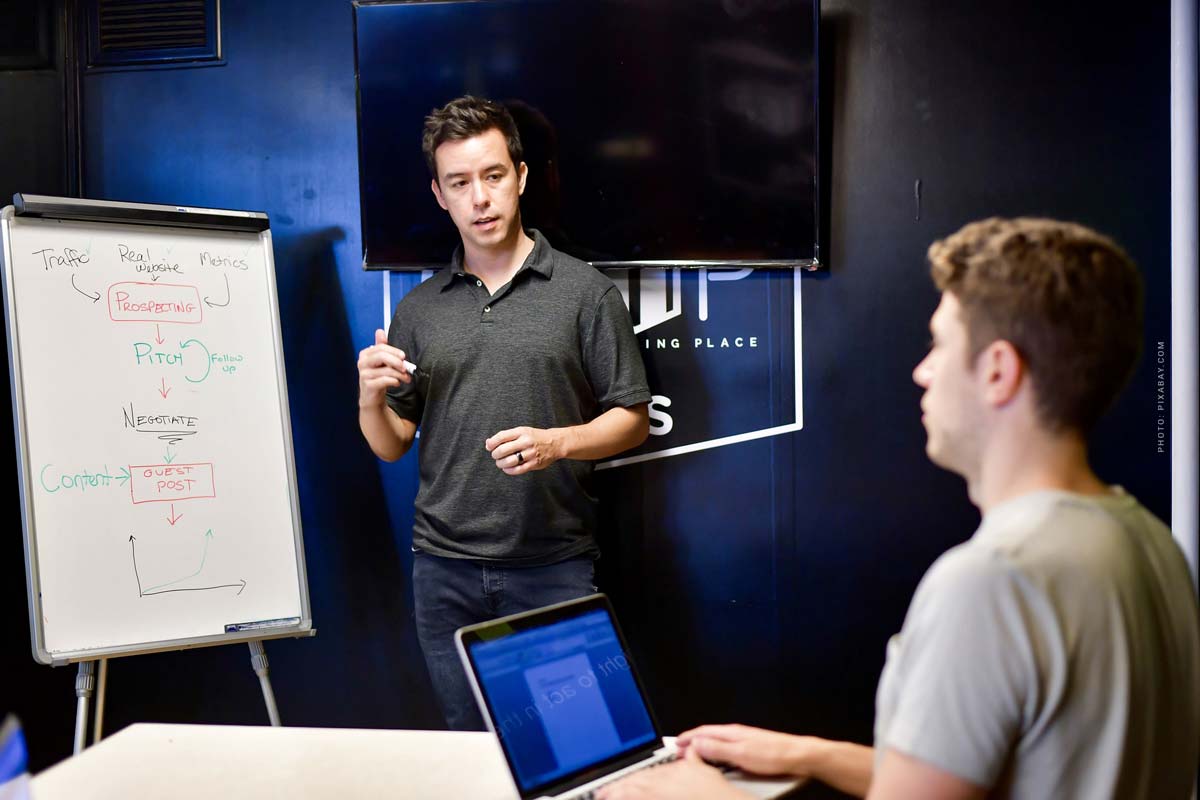 How to book a start-up speaker
Before every workshop, before every speech, there is a certain current state in the company that you as a manager, department head or employee would like to change. Our speakers offer the right know-how for you as a leader, manager and for your employees. In order to make everything as efficient as possible for you, the topic, goals, tasks and results are clearly defined in advance.
Do you have any questions? Call us or write to us: Contact.
Know-how for managers, department heads and employees
It's that easy to hire a keynote speaker for your startup event.
Send us your online request
Joint discussions for goals / requirements
Our experts send you speaker profiles and budgets
You decide!
Advantages at a glance
These are your advantages at a glance.
Meaningful speaker profiles
Proposals of concrete lecture topics
Lecture speaker videos
Testing and verification of any availability
Start-Up Areas: Common topics
What are typical and common subject areas? Among the know-how areas of the start-up are:
Business plan
Funding
Trademark search
Proof of Concept
Contact and contact person
You have questions about the workshops, speeches or would like to get started directly? Here you will find our contact persons:
https://keynotespeaker.one/wp-content/uploads/2021/06/speaker-workshop-mentoring-business-start-up-accelerator-man-mirror-ideas-rede-vortrag-pitch.jpg
799
1200
L_kinski
https://keynotespeaker.one/wp-content/uploads/2019/02/keynote-speaker-agency-logo-learning-health-sport-business-coaching.png
L_kinski
2021-06-17 13:17:05
2022-05-18 19:11:52
Start Up! Start a company within a company + Accelerator in SMEs and corporations