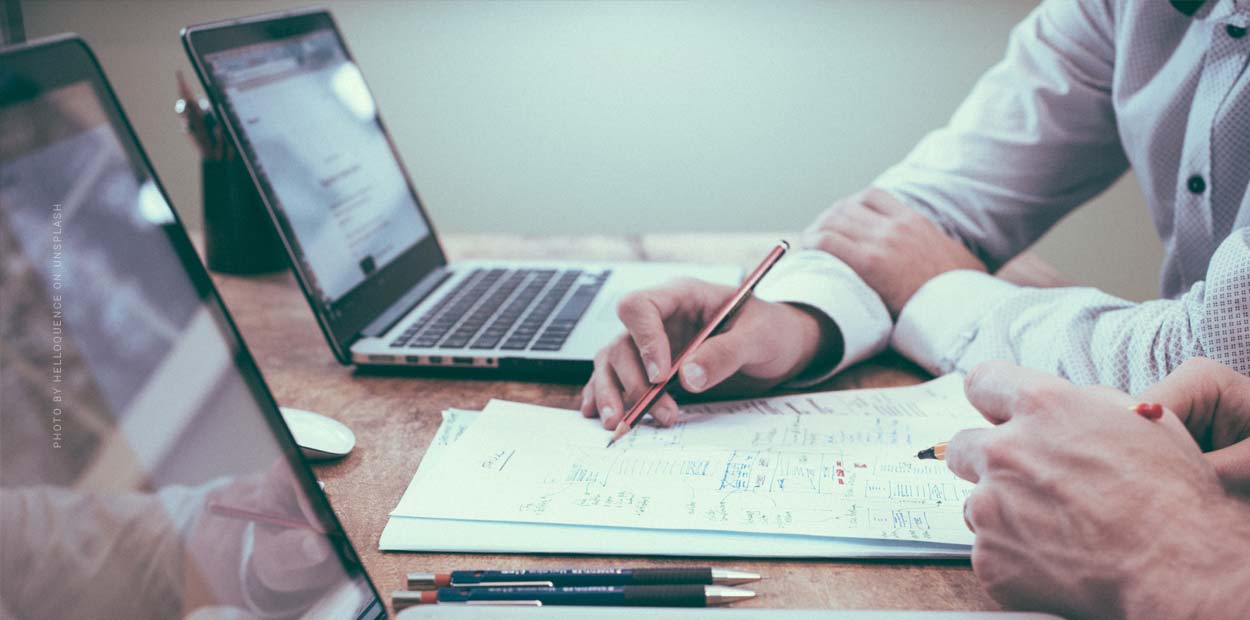 Cost planning and realistic thinking, two points that bite some. For banks and investors, of course, the potential profits should be as high as possible, but for themselves the assessment should be as realistic as possible. You'd rather end up with 5,000 € more a month than 5,000 € too little. For cost planning there is a fine line between as positive as possible and as realistic as necessary. What such a financial plan looks like in detail, we will look at it later. First of all, it is important to make a rough cost estimate of the large items. In the beginning these are, apart from the product and the marketing, above all rent, equipment, goods and personnel.
Costs for setting up a new enterprise
You should have an overview of the costs for rent and equipment right from the start. If, for example, you sign a lease for office space with 50 square metres and a term of 3 years, then it will grow faster than expected and suddenly need 200 square metres, the old office can quickly degenerate into costs. At the same time, of course, you also need the right equipment, the same problem arises here. More employees means more computers. Anyone working with technical products or in the agency business, for example, usually needs good and powerful notebooks with certain software. Of course, every single notebook has to be completely installed, up to every single e-mail address. If you don't have your own IT nerd in your company, the work will of course fall back on you.
Unexpected costs: burden on operating business
From personal experience, there are also days when, for example, three notebooks fail directly due to unfortunate coincidences. Since they are already being repaired, you send a fourth one (loose contact HDMI input) with them. So three or four new notebooks have to be bought spontaneously. That means: 3.000 € expenses, setting up a day instead of writing offered or earning money one has spent the time with software installations, email accounts and setups. Of course, the cloud must also be connected, the most important programs for customer management installed, already it is late at night. A little productive day and a four-digit amount less in the account. The best comes after the repair, the three or four new notebooks are no longer needed after the repair. Of course, they are kept in stock for the next new employees. Of course, there are still a lot of little things to do with the notebook. From tables as workstations to office chairs to a new Voice IP telephone. New mobile phones and contracts, WLAN routers on the second floor, planting and greening, of course, the irrigation. Hundreds of small construction sites that entrepreneurs have to keep a constant eye on. Because what exactly is the job title for all these questions? Managing Director. As a rule, leisure time can only be afforded later, at the beginning it means a lot of independent work and initiative.
Risk Management: Employees
Little by little, cooperation tasks are being completed. But personnel means just as much risk management. Of course we could also write whole chapters about it! Ultimately, however, there is often only one thought that is important: employees trust you as their boss. Employees rarely live the dream of later living in a large villa, due to the success of the company, they want the salary at the end of the month. Anyone who pays for personnel costs quickly risks an unsatisfied team. Conversely, the work stays with you. Nevertheless, there must be personnel and therefore personnel costs also arise. Wages and taxes must always be paid on time. If you hire too many staff, you risk not being able to pay social security contributions. When it comes to social security arrears, of course, the state can't take a joke. In addition, there are also health insurance funds, which are usually hardly taken into account in personnel planning or cost planning for personnel. In the end, however, health insurance companies book a large monthly item in their own company. If you pay an average of 500 euros for each employee, then 10 employees will quickly be charged 5,000 euros a month, another 60,000 euros a year, only for health insurance companies.
Further costs of setting up a business
In addition to rent and personnel there are of course many other costs, e.g. insurance. The operational accident insurance, the household contents insurance for the object in addition, the general liability insurance for enterprises. All no big items but in connection with mobile phone contracts, new electronic devices, there are over the year seen more big expenses. Important: You must always take out liability insurance for your Start Up.
https://keynotespeaker.one/wp-content/uploads/2019/07/businessplan-schreiben-gliederung-definition-best-practice-finanzplan-inhalte.jpg
620
1250
Team
https://keynotespeaker.one/wp-content/uploads/2019/02/keynote-speaker-agency-logo-learning-health-sport-business-coaching.png
Team
2019-09-02 07:00:02
2019-07-29 11:29:06
Business start-up costs: staff, rent and equipment – setting up your own business #11