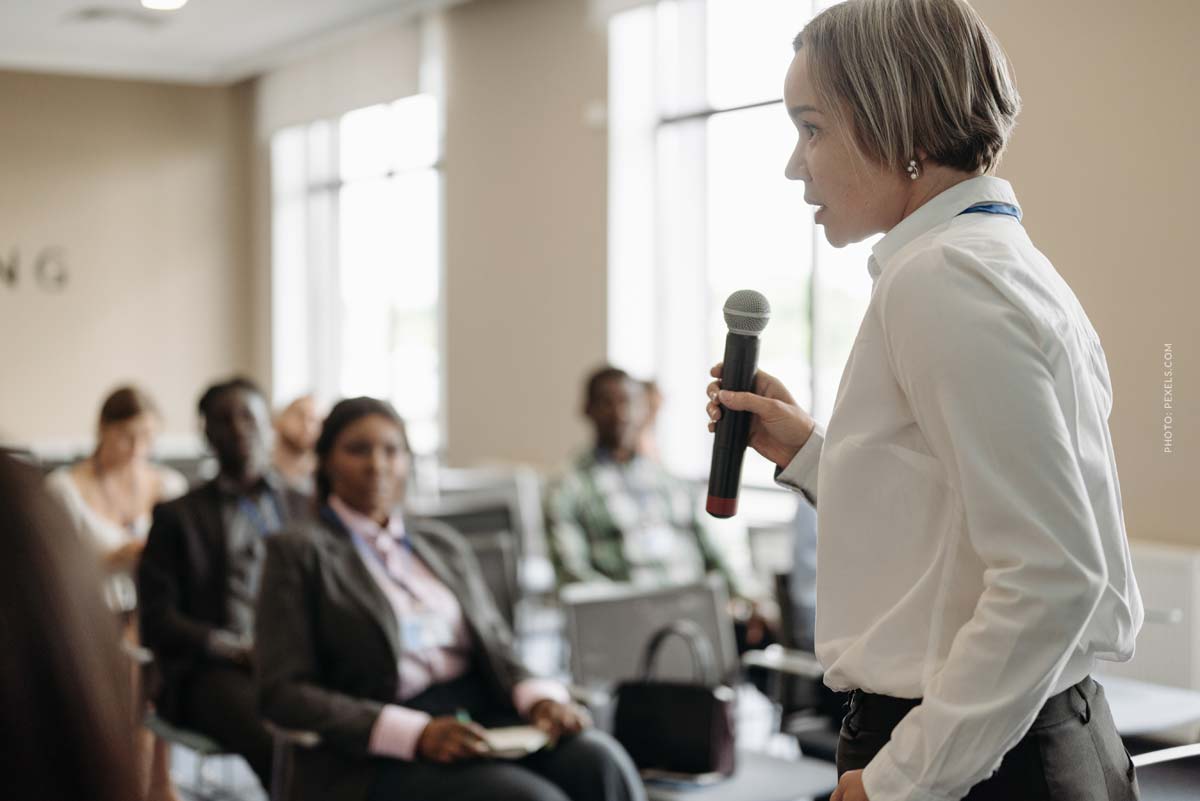 Speaker Personality and Success – Are you looking for a keynote speaker for personality? We all know people with a very special personality or charisma. The charisma of a person often decides how we are perceived by our counterpart. Everyone knows the saying: "The first second counts"! Most of the time it is even the first moment, just 0.3 seconds. People subconsciously decide in a fraction of a second whether they find a person likeable or not. The brain compares experiences and preferences at lightning speed. We have already formed our opinion before we perceive it ourselves.
Personality and Success: Keynote Speaker
This decision, already made at the beginning, always has an influence on the outcome of negotiations or sales talks. Therefore, it is not only important for salespeople to show charisma and to develop a certain personality in the moment. Not only salespeople, but also managers, owners or anyone who is in contact with customers.
Book Speaker and Keynote Speaker
We are looking forward to your project inquiry:
Emergence of consciousness: interactionism
Not only for speakers, for every person it is the case that one's own personality develops in the course of one's life. This also goes back to many social and individual foundations, e.g. symbolic interactionism. This states that we perceive the world as it is given to us. For example, if we learn that a dog is friendly, then we will perceive dogs as friendly beings. Conversely, if we are constantly told that spiders are somehow "gross" and that you shouldn't touch them, we will think the same thing. Similarly, we understand very simple things, like a bicycle, we see people riding bicycles and adapt the thought that you can move fast on it. This symbolic interactionism shows that we attach some symbolism to things. Likewise, we can shape and create our own personality to show more charisma or to bring more charisma with us.
Concept Adaptation in advertising: training makes perfect
The same concept is used in advertising every day. The trusted newspaper advertises a car. A week later we find the car in a magazine, a little later we are advertised online. At the same time, a player of the national soccer team gets a new car and proudly posts it on Facebook and Instagram. The permanent influence creates perception and gradually places the product in the long-term memory and subconscious.
Concepts can therefore transfer. Our speakers want to give you the right tools to create your own personality and perception depending on the situation. There are already small, simple concepts to improve the own effect in the first second, here a small insight:
The first impression: How do I enter a room?
Before going into depth in the topic of "Personality" and "Development" or "Effect", the first thing to consider is just how you enter the room. This is the first encounter and therefore also the first opportunity to emphasize one's own personality. Let's take just fundamentally two concepts:
We imagine the room pointed
We imagine the room, to the left and right, wide open
We imagine the room shot, as a tapered triangle. We thereby make ourselves small, look straight ahead and will also achieve only a small "effect" with the interlocutors. Likewise, we can rotate the concept. We fold our arms apart and roam our gaze from left to right. We perceive the room as large and total. By making eye contact with each person and also turning the body slightly in all directions, we build a connection and show the others that we are present. This underlines our own charisma around the charisma.
Such little tricks help to develop one's personality. If you have entered the room with open arms three or four times and involved everyone with a brief eye contact, by the fifth time you will be entering the room with open arms as a matter of course.
Tiredness in the morning? Jumping and spinning for adrenaline
Many managers are often on the road. From city to city, from hotel to hotel. After a long flight and searching for a hotel, it is a real challenge to arrive at the meeting in perfect condition in the morning. Often, one's own fatigue is an obstacle to perfect sales deals or negotiations. A factor that people like to try to compensate for with coffee. But it is much easier with your own adrenaline! There are several small concepts that help us to quickly rebuild our own charisma. Our goal is always to make the eyes shine, to have a light smile on the lips and to be present with verve.
Possible, for example, through small jumps, just before the meeting. A few jumps at a run to the office, that drives the body. After five or six jumps, you have to smile yourself. You can take this positive energy straight into the meeting. If you have to go to a high-rise building and know that you have a long elevator ride ahead of you, you should simply turn around once or twice in the elevator. The slight dizziness directly drives the body and the body emits some adrenaline. Again, you have directly collected positive energy and will already smile out of the elevator.
Training for charisma and charisma: Many roads lead to Rome
There are countless possibilities to develop one's own charisma, the important thing is that you work on yourself and don't take it for granted or take it for granted. If you compare managers with actors, they also have the urge to play a certain role. It's the same with actual personality or charisma. Just as you take on a different role at home or when you are out with friends, you also take on a different role in your job and profession. In our coaching sessions, coaches show you how to take on roles authentically. Perhaps you know this yourself?
Book your personality coaching speaker now
If you are looking for a trainer who emphasizes the personality of your employees or your own, who works out skills and shows you ways to improve your own charisma in relation to others, call us now! We look forward to receiving your project request:
Personality and success Booking a speaker: this is how it works
Before every workshop, before every speech, there is a certain current state in the company that you as a manager, department head or employee would like to change. Our speakers offer the right know-how for you as a leader, manager and for your employees. In order to make everything as efficient as possible for you, the topic, goals, tasks and results are clearly defined in advance.
Do you have any questions? Call us or write to us: Contact.
Know-how for managers, department heads and employees
It's that easy to hire a keynote speaker for your Personality & Success event.
Send us your online request
Joint discussions for goals / requirements
Our experts will send you speaker profiles and budgets
You decide!
Advantages at a glance
These are your advantages at a glance.
Meaningful speaker profiles
Proposals of concrete lecture topics
Lecture speaker videos
Testing and verification of any availability
Personality and success areas: Common topics
What are typical and common subject areas? Among the know-how areas of personality and success are:
Goal-oriented action,
Networking,
Stepping out of the comfort zone,
Highlight strengths.
Subject areas and coaches
https://keynotespeaker.one/wp-content/uploads/2022/05/speaker-event-frankfurt-economy-financial-forum-2023-keynote-last-facts-example.jpg
801
1200
Stephan Czaja
https://keynotespeaker.one/wp-content/uploads/2019/02/keynote-speaker-agency-logo-learning-health-sport-business-coaching.png
Stephan Czaja
2017-07-08 15:28:29
2022-05-18 19:12:24
Personality and success: Speaker for charisma and charisma